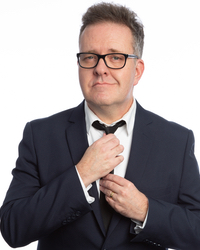 In Conversation with Brittlestar: Moderated by His Wife
When
Occurs on Thursday September 28 2023
Approximate running time: 1 hour and 5 minutes
Venue
Play Notes
×
Join us for an exciting evening of In Conversation with Brittlestar: Moderated by His Wife!
Get ready to laugh, learn, and be entertained as we delve into the life and experiences of the internet sensation, Brittlestar as we celebrate the release of his new book, Welcome To The Stupidpocalypse: Survival Tips for the Dumbageddon.
During this engaging conversation, Brittlestar will share his journey, insights, and anecdotes from his online adventures. With his wife as the moderator, the conversation is sure to be candid, humourous, and filled with personal stories that you won't want to miss. Whether you're a fan of Brittlestar or simply curious about the life of an internet star, this intimate event is a must-attend. Come and be a part of this unique opportunity to connect with Brittlestar and gain a deeper understanding of his world.
As a special treat, every ticket holder will receive a copy of the book from Winnipeg's own McNally Robinson!