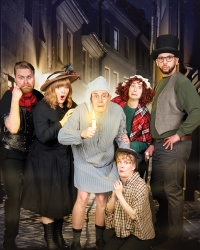 Outside Joke's A Christmas Carol: Big Dickens Energy
When
Runs from Tuesday December 13 2022 to Friday December 23 2022
Approximate running time: 1 hour and 30 minutes
Venue
Play Notes
×
The best thing to happen to A Christmas Carol since the Muppets!
OUTSIDE JOKE'S A CHRISTMAS CAROL: BIG DICKENS ENERGY An Outside Joke production | World Premiere December 13 – 23, 2022 90 mins - No Intermission
The classic tale of redemption as you've never seen it before! The genius of the premiere musical improv troupe, Outside Joke, brings the laughs as Scrooge's very bad night goes in an unexpected direction with the help of the audience and the sheer talent of the performers, inventing a full musical comedy production on the spot. Take a break from the holiday prep and enjoy the ensuing hilarity.
Please call the Box Office if you require ACCESSIBLE SEATING 204-942-5483