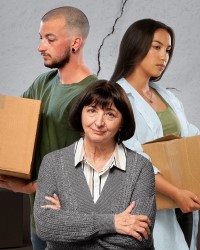 Volare
When
Runs from Wednesday April 26 2023 to Sunday May 14 2023
Approximate running time: 2 hours
Venue
Play Notes
×
by Elio Zarrillo | World Premiere
April 26 - May 14, 2023
The patriarch of a fractured family has passed away. Now, after years of family drama and trauma, his second wife Madeleine is left to decide who gets the house: his grandson Dominic or her granddaughter Grace. But first, Madeleine needs to get the two pseudo-siblings talking again. In Volare, packing up the family home becomes complicated when unpacking their history interferes.
Please note: this show contains transphobia and homophobia, mentions of drug use and descriptions of physical violence.
During the show, three cigarettes are smoked; the cigarette substitute is quite similar in smell to real cigarettes.