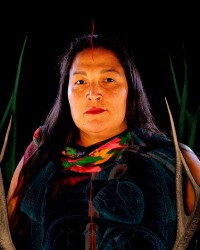 Deer Woman
When
Runs from Wednesday April 20 2022 to Sunday April 24 2022
Approximate running time: 1 hour
Venue
Online
Your Device Via Tickets.Pte.Mb.Ca
Winnipeg Manitoba R3B 3H6
Play Notes
×
THIS IS A DIGITAL PRODUCTION.
by Tara Beagan
April 20 - 24, 2022
A warrior woman, an act of righteous vengeance An ARTICLE 11 production in partnership with Downstage
Lila is a big sister whose little one was stolen. She is the daughter of a hunter who taught her all he knew. She's ex-army, but can't seem to leave all that training behind. Circumstances converge and Lila finds the perfect opportunity to avenge her younger sister's murder while exercising the skills the Canadian government trained into her.