Christmas with the Little Opera Company Friday November 30 2018 at 7:30 PM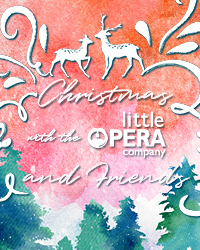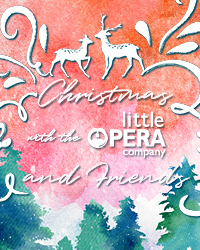 You've selected
Friday November 30 2018 at 7:30 PM
×
Its beginning to feel a lot like Christmas! To kick off this festive season, Little Opera Company has gathered some of Winnipeg's finest musical talents for a holiday concert to kick off your Christmas season.
Christmas with the Little Opera Company and Friends will feature a mix of soloists, duets and choirs, covering a wide array of seasonal songs. Featured talents will include Margot Harding (soprano), Sydney Clarke (soprano), Donnalynn Grills (mezzo-soprano), Shannon Unger (mezzo-soprano) along with the Kelvin High School Boys Choir, the Pembina Trails Boys Choir, the Sisler High School Boys Choir, and the Winnipeg Boys Senior Choir
Set in the beautiful venue of the First Presbyterian Church, this family-friendly concert is sure to have you singing along. Tickets are $20 for adults, $15 for students 16+ years of age and $10 for children 15 years of age and under. Purchase online or call 204.942.5483.
Venue
Little Opera Company
First Presbyterian Church
61 Picardy Place
Winnipeg Manitoba R3G 0X6
×
This is a festival seating performance - the seats are on a first come, first serve basis when you arrive at the theatre.
Doors open 1/2 hour prior to start of performance.